Integrated Environmental Studies Course
2019-07-01

【3/3】Report on On-site Research Training (ORT) at Kiso Town, Nagano

June 15th - Kiso Town

1. Kiso Horse Farm

The last day of our study tour started with visiting a horse farm in which we had the chance to see the famous Kiso horse (an ancient Japanese breed). The farm was located in a beautiful place with pristine sceneries. As Mr. Higemura explained in the past, these horses were used to carry the logs or for cultivation; the horse manure was also useful in agriculture. However, now there is no market for selling the horses except as pets (the price of Kiso horse is around 500,000-600,000 yen). These horses consume a large quantity of food (dried plants) per day which is being imported from other countries. All in all, the process of keeping these horses as pets is nor easy neither cheap.

We also learned from Mr. Higemura that in comparison to other horses, Kiso horse cannot run fast probably because of the short legs. However, they can carry around 200 kg on their back and pull heavy loads (1-1.5 tons). In addition, they have the potential to adapt to harsh natural conditions.

The farm was financed by Kiso town government and they were taking care of 40 horses at the time of our visit. During the visit, not only we got a chance to see these kind and cute animals, but a few of the professors and I could ride on them while enjoying the surrounding green landscape.

2. Kaida Kogen Ice Cream

After visiting Kiso horse, it was finally the time to have some ice cream. I was so surprised of seeing exotic ice cream flavors like corn, soba, Egoma, and Adzuki beans (benefiting the local resources in favor of promoting new products). Other than ice cream, they had a variety of other products like cheese, yogurt, honey, and bread. While enjoying the delicious ice cream, the owner of this business mentioned about their future plans for adding other ice cream flavors (specifically chocolate) to the products. Also, he stated that convenient stores are not eager to sell their products because of the relatively expensive price and the customized (not standard) packaging. However, they had their own loyal customers.

In my opinion, the taste and texture of the ice cream were so nice. I also bought Sunki yogurt which is highly recommended if you have ever visited Kiso town.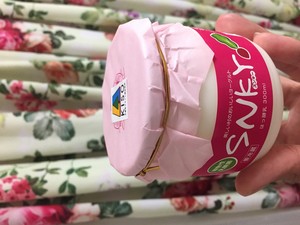 3. Ontake Health Lab
As it was mentioned earlier, Kaida Kogen is located in high altitudes and has a very unique landscape, this characteristic along with abundant forests make it a great place for promoting health-related activities and healthy lifestyles for local people and tourists. Ontake health lab is established fulfilling this goal using the local resources. At the moment, one of the main activities of this health lab is walking with Kiso horses. There is also a lab for indoor activities (bouldering, etc.) which is used mostly in the case of bad weather. However, there are other activities you can enjoy in this health lab, namely archery, walking in the forest, climbing the trees, etc. Speaking of healthy lifestyles, they promote making healthy food like obento prepared with local products, and they provide medical check-ups.
They also renovated the main hall of a famous guesthouse (Yamayuriso) for health activities and eager to provide their facility not only for individuals but also for companies. We also had the privilege to walk with one of the guides of this lab in the middle of the forest. At the beginning of the trail, there were some simple but challenging facilities for warming up. She (our guide) also talked about the benefits of the soft ground of forests for the body (specifically knees) and the positive effects of lights and shadows for mental health. On the way, we passed Kaida elementary school and our guide informed us of the limited number of students (50 in all 6 grades). All in all, it was such a great experience.
Before lunch, we also had a little time to visit a museum close by regarding history, religion, agriculture, and animals of this region.
4. Lunch at "Kirishina"
Lunch was a croquette set (soba and corn) with soba noodles (a specialty of Kiso town).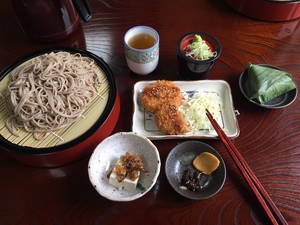 5. Transplanting Cyclamens at Tazawa Garden
As Mr. Tazawa explained for us, this business was established back in 1965 and its focus is on transplanting 60 types of Cyclamens (Shikuramen). We visited one of the main greenhouse facilities where Mr. Tazawa talked about the challenges this business is facing at the moment. Apparently, the demand is decreasing due to many reasons which affect the price of this flower in the market. The target markets are usually big cities like Nagoya or Osaka (mainly east of Japan due to the shorter distance). However, nowadays many people tend not to spend money on buying flowers regarding the economic situation. He also talked about the positive outcomes of growing plants in a highland like Kaida where there is a difference between the temperature of days and nights.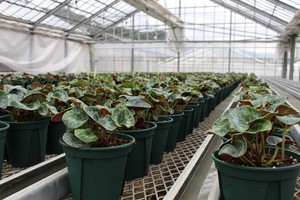 6. Kiso Dance
The final visit of the study tour was dedicated to an introduction on Kiso dance. 3 gentlemen belonging to the group of dance preservation talked about this specific dance for us. Apparently, this group was established 100 years ago and now it has 45 members. However, most of the members are in their 60s-70s and there are limited young members. According to them, Kiso dance dates back to 600 years ago and it was related to Kiso Yoshinaka and praying for his spirit. Also, in the past, many people believed Kami-sama was living in the mountains (Ontake-san in this region). So, dancing was a way of respecting the gods too.
Kiso dance is a combination of dancing and singing. Usually, there is a lead singer who is accompanied by other singers. The aforementioned group practices every month and welcomes anyone who is interested in dancing with them. However, their main goal is to promote this dance not only between local people but also tourists. They also performed a part of singing for us which was the fabulous closing for our study tour.
---