June 1st -- Higashi - Shirakawa Village - Shirakawa Town
1.Village office of Higashi-shirakawa
At the office, Mr. Taiji Watanabe was giving us a lecture about the "Forestyle". He started his speech by pointing out to the term "Glocal" and how they are concerned about the sustainability of their village. This term means being aware of the things at a local level and having a global perspective as well. He introduced Mr. Katsuragawa, the founder of "Forestyle". This term which has been registered as their trademark, is a combination of forest+lifestyle which is not only a new perspective to sustainable forest management, but also a way of promoting construction industries in which people are encouraged to build more wooden houses.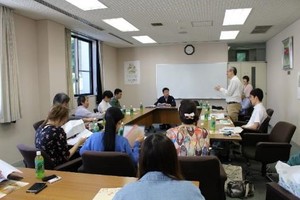 2.Forest park "Higashi-Shirakawa Bojurin Park"
Then we moved to a beautiful forest park where Mr. Shigeaki Kurimoto (official in charge of the forest that the village owns) explained about the forestry issues. He explained how wood price has been decreased since his childhood (now he is 70 years old). Apparently, people of the village are currently dealing with two important issues: 1) making money out of the mountains 2) dealing with the wild animals living in the forests. Trees on top of the mountains usually cannot make money because they are really hard to approach and that is why the owners are not eager to invest money in them. On the other hand, growing trees is a long-time procedure, and someone needs to take care of them continuously from the beginning to the final steps. We even observed the start point of Ise Bay watershed in the heart of the forest. Mr. Kurimoto explained us about his experiments (one of them has been started 50 years ago). The reason for doing all of these experiments is finding the best style in order to introduce it to other forests too. In the picture, Mr. Shigeaki Kurimoto (the fourth person from front-left) says "hai-chi-zu" with us.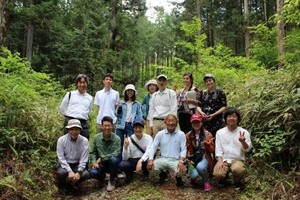 3.Shop "Shirakawa-Chaya" with a dining area
Sushi wrapped by Hoba leaf was absolutely one of the most delicious meals we had in this field trip. They have special Tsuchinoko pies with the red bean inside. Moreover, all the staff in Shirakawa-Chaya shop were so charming and welcoming.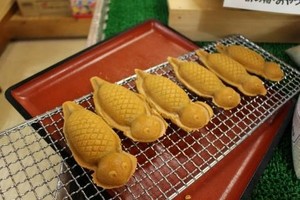 4.Town Office of Shirakawa
We moved to Shirakawa town and had lectures by officials and specialists from different Divisions at the town office (agriculture and forestry, relocation of the town office building and public transportation in Shirakawa town). The challenges here are related to being in the shadow of Shirakawa-go (one of the UNESCO's World Heritage Sites), tea sales, wood price and declining population. Shirakawa town has some links with Italian cities and has a pipe organ built by Mr. Tsuji Hiroshi (a famous artist). There is a wood-applying industry in the town which builds houses and other objects such as wood furniture and toys; their target markets are China, Korea, and Taiwan. Then, a lecture was given on the relocation of the town office building due to the fact that the building could not meet the necessary earthquake requirements. There are three alternatives available with positive and negative features. Final lecture was about public transportation in Shirakawa town in which an official explained us about Nohi Co. (local bus company). Their challenges are related to declining population, also lack of appropriate public transport and its impacts especially on high school students. Apparently, there only exists one taxi company in the town. In the picture, we are having a look at hinoki-wooden samples.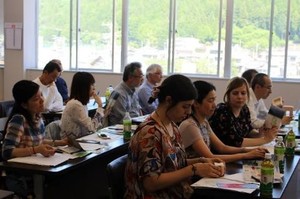 5.Visit one of the candidate places for a new town office building (Shirakawa Junior High School) and Shirakawa Taxi Co., Ltd.
We visited the town junior high school. This place is a very appropriate candidate as it is located in the town center and there are no landslides here.

We went to Shirakawa Taxi Company (president: Mr. Hisatoshi Doi) which provides on-demand taxi and runs the school bus too. Declining population is a big challenge for their business as well. However, the number of people using buses have been increased since they started their trial service. Therefore, new drivers (10 applicants in their 40s-50s) have been recently recruited as bus drivers and they still need 4 more people (with no age limits). In spite of all the difficulties, they are trying to run this business which is very admirable. In the picture, Mr. Hisatoshi Doi (white shirt), President of Shirakawa Taxi Co., is giving an introduction about his company.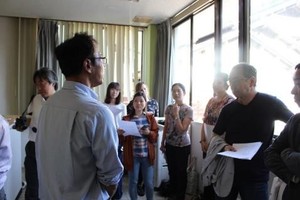 6.Visit the facilities that make use of a closed high school (Shirakawa High School)
Then we visited the town closed high school which was located on top of a hill (the scenery was amazing). It was a huge building showing that once there were a lot of people (especially young ones) living in this town. Apparently, they cannot use it at the moment mainly because there is no drinking water available and fixing this problem would cost a lot due to the large size of the building. This place was used for the shooting range at the National Sports Festival of Japan in 2012 and currently used for public facilities, including Ohnodai Park and a gymnasium.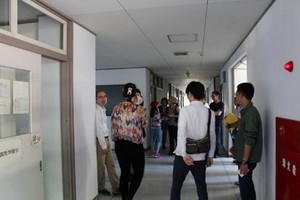 7.Take a local bus from "Eigyosho-mae" to "Washibara"
After these visits, we took a local bus and went to Mino-Shirakawa Piacere.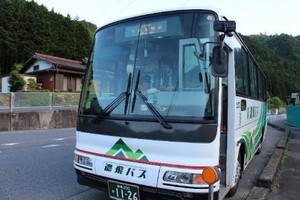 8.Dinner at Roadside station "Mino-Shirakawa Piacere"
We had a dinner with grilled beef on the dry Hoba, vegetable, rice & miso-soup.

9.Meeting and lectures
As the last event of a long amazing day, we had the privilege to host three young people (probably in their 20s) as the newcomers of the town: Ms. Akari Obuchi (migrant from Kanagawa Prefecture), and Mr. Yuki Shimada and Mr. Ryosuke Noro (members of Local Vitalization Cooperator). Mr. Yuki Shimada from Saitama Prefecture who moved to Shirakawa town last year after graduation from Tokyo Arts School. His roles are collecting data about Akiya, writing books about the town and making photo-book. Mr. Noro studied Tourism and wants to build a hotel from an Akiya in the town. Ms. Obuchi explained how she receives support from the neighbours and enjoys her life in the town.
After this part, in three different groups we discussed about the existing issues, challenges and opportunities with our guests.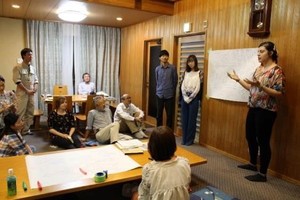 10.Firework party
We were surprised by the professors because they prepared a firework party after drinking time (we have drinking time after each workshop). This was so amazing and thoughtful.