Integrated Environmental Studies Course
2019-06-28

【1/3】Report on On-site Research Training (ORT) at Kiso Town, Nagano

Around 8:15 am we got on university rental cars and the study tour did officially begin. Unfortunately, we got stuck in a morning traffic jam in Nagoya (probably due to an accident). However, after a while, everything went back to normal. On our way to Kiso town in Nagano prefecture, we crossed abundant forests, Kiso River, a lot of bridges, namely Momosuke Bridge, and Yomikaki power plant. Kato sensei explained about Momosuke Fukuzawa as the first Japanese introducing hydroelectric power to Japan and his wife as the first Japanese actress. Regarding Kiso River, Kato sensei also explained about water resource rights in Japan. As far as I understood, Nagoya has the first priority over the Kiso River, and that is why it usually does not face any water shortages.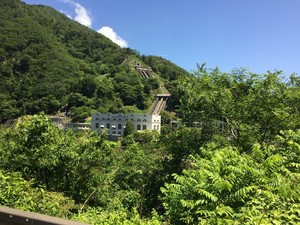 1. Introduction on Kiso Town
Mr. Ito, the director of Community Promotion Section, gave us a lecture about Kiso town fundamental characteristics at the cultural exchange center. He started mentioning the different parts of Kiso town, namely Kaida, Mitake, Kiso-Fukushima, and Hiyoshi, all of which were explained separately afterward. First, Mr. Ito showed us a cross-section of Kiso town in which he explained about the location of Kiso-Fukushima checkpoint along "Nakasendo" in the lowest part. He also talked about the scarcity of land for residential use in this area and the cliff-house construction as a result of this situation. The most significant fact about Hiyoshi was its relation with Kiso Yoshinaka, Genji's warlord at the end of the Heian period. On the other hand, Kaida is well-known for its geographical location (an elevation of 1100-1300 m), and its gorgeous landscape which has placed Kiso town in the list of "the most beautiful villages in Japan". In addition, these highlands are a very suitable place for raising the famous Kiso horse and also growing buckwheat for Soba. Then, he introduced the famous "Sunki" (fermented leaves of red turnip) and its use in traditional and non-traditional dishes, like Sunki pasta and Pizza. Finally, he talked about the Mitake area and the practice of climbing mount Ontake. He also mentioned about 2014 eruption, the number of casualties (58 died, 5 still missing), and its negative effects on tourism.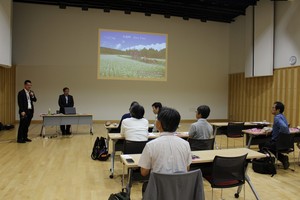 2. Lunch by Mitake Gourmet
At the end of this session, in the same hall, we enjoyed our colorful lunchboxes provided by local women at Mitake Gourmet. We also had a chance for asking questions. As far as I understood, this area has been facing declining population during the last decade. However, the number of households has not been changed.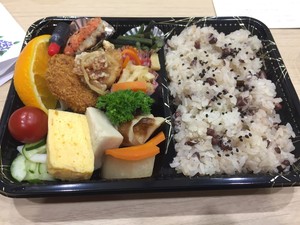 3. Flat Kiso (Satellite Office and Co-working Space)
After lunch, we walked to the next visit location which was a two-storey renovated building. The first-floor functions as a co-working space while the second floor is basically dedicated to satellite offices for outsiders. At the time of our visit, there were 3 junior high school students on the first floor who were sent by their school to this place getting to know more about its activities. We also visited the second floor. According to Ms. Nishio, the outsiders usually come from Nagoya, Tokyo or even Hokkaido and they are young professionals (in their 30s or 40s, usually male) who specialize in IT, web design, writing, translation, etc. and can benefit the nature and cheaper human resources in Kiso town. Rather than Flat Kiso, there are other co-working spaces in Nagano prefecture too all of which are financed by the government and one of their goals is to provide new job opportunities for local people using local resources. Ms. Nishio mentioned that Flat Kiso has not achieved any success in the aforementioned goal yet.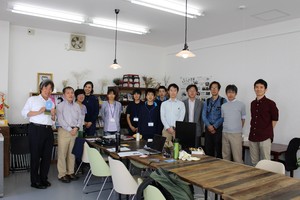 4. Forest Management
For the next visit, we headed to the heart of Kiso forests (mostly private). We put on our rain boots, crossed a river and steep mountainous slopes to reach the area where technicians were working with specific machines to cut the trees, move them along the slopes, and then cut them in specific length (4 meters) in order to make them ready for transportation which is usually the most expensive part of this process since no subsidies are provided by the government. In fact, most of the time the cutting trees are left in the forest because of the high costs of transportation. We also found out that Ishikawa prefecture is the market for these trees where the logs are used for making boats. Apparently, working with sewing machines is changing the perspective of the forestry industry as a hard intensive job and it could be attractive for young people (male and females). According to Mr. Matsubara (from forest association) there was a lady in the group of forest management technicians. However, she left the group after she got pregnant.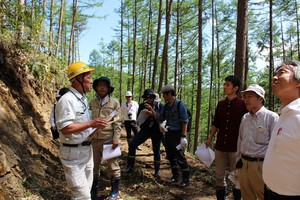 5. Walking along "Nakasendo"
After the forest visit, we checked in the guest house "Murachiya" and then started exploring Nakasendo on foot. On our way, we tasted the fresh water of spring and we also passed a brewery where Hirano sensei explained about "Sugidama" hanging in front of the Sake shop. "Sugidama" is basically made of fresh cedar branches and it is a sign of the beginning of Sake production. Over time, the cedar branches dry up and turn into brown. A brown "Sugidama" shows the customers that the brewed beer is sufficiently aged and ready for sale. It is noteworthy that the Kiso town is famous for its quality Sake. We also walked on a beautiful bridge over Kiso River where we could watch the amazing sceneries along with houses built on the riverbanks. At the end of this visit, we all did rest our foot in a footbath close to the Kiso River and had the chance to taste Hoobamaki (a kind of mochi wrapped in magnolia leaves).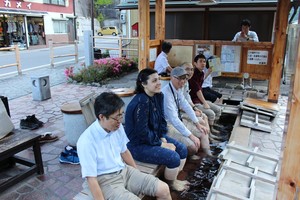 6. Interview with local people at "Murachiya" Guesthouse
In this part, we had Ms. Nishio and Ms. Sakashita as the guests. After everybody introduced themselves briefly, Ms. Nishio and Ms. Sakashita talked about their motivations of coming to Kiso town as local vitalization cooperators. Ms. Nishio had studied sociology and her grandmother was from Kiso town which was a privilege for her (merging easier with local people). She mentioned admiring the nature and the small businesses in Kiso town. She also talked about their mission of connecting local people with the outsiders at Flat Kiso and their strategy of bringing together people at Izakaya to break the ice. However, local people normally are not familiar with these kinds of activities and hence, do not attend such meetings. She also mentioned about tourist resources in Kiso town and the lack of enough accommodation, facilities (small clinics, etc.).
Ms. Sakashita was from Shimane prefecture. Working as a local vitalization cooperator in Kiso town made her realize that there is no clear image of this town. Also, many Japanese do not know that Kiso town is made of 4 distinctive parts. She also explained how the two of them think about the meaning of Flat Kiso discussing new ideas and themes for the upcoming events.
The other discussed issue was the young people (especially young women) not being interested in living in Kiso town. Apparently, this place is not responding to their needs and that is why they move into urban areas. Not only the number of jobs is quite limited for young people (specific interests), but also there is not so much chance for socializing activities.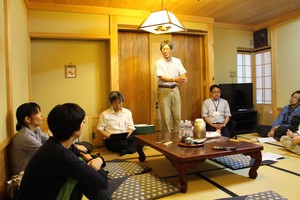 7. Izakaya Chikara
As for the last part of the first day, we walked to Izakaya Chikara where we all could relax in a more casual atmosphere drinking and eating so many different dishes. I (as the only student of this course) got the chance to talk to the ladies about so many different things including the cultural differences between my country (Iran) and Japan. It was a nice experience and I think everyone enjoyed it very much. I also got the chance to thank the owner of the Izakaya in English and Japanese which was fun.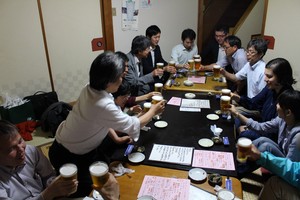 ---